The Spanish Rías - August 1999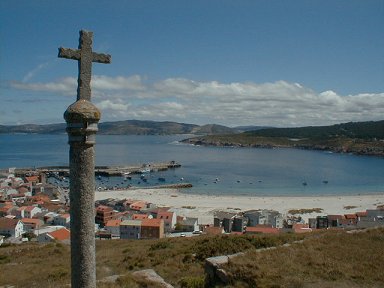 The town of Laxe in the Ría de Corme y Laxe, with the local and visiting boats sitting gently in the afternoon sunshine.
Un Río is a river in Spanish, una Ría is an estuary. The Rías of North Spain are not the flat, muddy, silty affairs that that word often conjures in the mind's eye. Here a rugged, mountainous, granite landscape is deeply cut by complex, many-branched inlets. Rivers and streams may empty into the sea from high in the hills, but to seafarers of every generation what we have here are the most marvellous natural harbours. As you enter each Ría you soon feel some shelter from the boisterous Atlantic swells, but as you round each successive headland towards the well-placed town quays this protection becomes total and complete. Anchored off the town in these Rías we totally forget the weather and the seas that are presumably still pounding the coastline. The water is mill-pond calm until the local fishing fleet, ferries or power-boats cut it up to bounce us momentarily with their wash.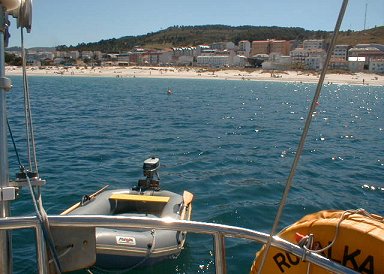 Our faithful rubber dinghy waits to take us the 100 m to the beach, or across to the town slip, in Laxe.
Children as young as eight or ten learn to sail dinghies here, people work their lives at sea from these ports and old men drift around in brightly painted wooden punts twitching their fishing lines, waiting for a bite in the morning mists.

The annual migration of cruising yachts through their anchorages causes no problem and brings a little more life to the waterfront cafeterias, restaurantes and bars. The locals curiously inspect our cockpits as they motor past. Ashore they are happy to swap a little Spanish lesson for a brief English one, or laugh with delight when we try to order meat using the noises the animal might once have made, rather than the correct Spanish words, in a butcher's shop.
CHART
BOX

Sketch Maps and Chartlets (not to be used for navigation!)
© Copyright 1999 Nigel Jones/MistWeb Software
Las Rías Altas
The Northern Rías lie along the North coast of Spain where it forms the Southern boundary of the Bay of Biscay. We made our landfall in La Coruña after crossing the Bay (Click here for the story and pics of the crossing) and then explored only to the West of there. The Rías Altas tend to be less deeply buried in the landscape and less developed and commercialised then the Rías Bajas.
La Ría de la Coruña
After our landfall here we stayed for a full two weeks, collecting a post-drop at the local post-office, sorting ourselves and the boat out and resting. Click here for the photos we took and our feelings and impressions half-way through that fortnight.
La Ría de Corme y Lage
Setting off for Lage ('Laxe' in the local spelling - same pronunciation, a sound half-way between an 'h' and clearing your throat does the 'g' or the 'x', and any 'j's you may find in Spanish), this was to be our first bit or 'tourism' in Spain. I was amazed how little I had thought about it. All effort before we left had been put into the Biscay crossing and La Coruña - I knew the aerial photo we had of that harbour by heart - and it was strange to be suddenly planning to be moving on again.
This little Ría shares its name equally between its two towns but we knew even then that we did not have time to explore everything on this coast - we must pick one - so we chose Laxe to visit. The harbour at Laxe is no more than a pier a quarter of the way across the bay from one of the headlands. Behind this pier were clustered moorings for a few dozen local fishing and pleasure boats. We anchored outside of these, really out from behind the shelter of the pier, only 100 m from the golden white sand beach.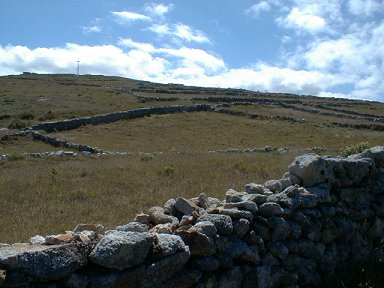 Ancient fields bounded by dry stone walls on the hills above Laxe.
There was nowhere to land a rubber dinghy other than the main town slip-way. We were chuffed to be immediately involved in the local bustle of life when an old lady passed me down a plastic bucket and asked me to fill it with sea-water for her fish-filleting operation on the top of the quay.
Life ashore was an interesting mixture of ancient and modern. Hamburger joints and half-finished, jerry-built holiday-homes filled the waterfront overlooked by the most ancient stone church. Stainless steel open-air showers on the beach and argumentative tourists at out-door café tables lined the road where a statue of the Virgin Mary was carried shoulder-high to the church on Sunday morning. A stage set up beside the beach was blaring out a local band who sounded very much like a Spanish version of 'Enya'.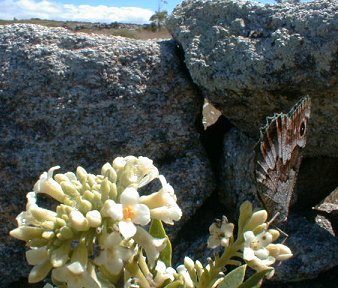 A butterfly sips nectar from the wild flowers near Laxe.
Up in the hills above the town you could still see the dry stone walls of the very first field enclosures - fields that did not even meet their neighbours' boundaries, leaving strange-shaped pieces of unclaimed land between them. Also up there was a beautifully kept stone chapel and the twelve Stations of the Cross dotted across the open hillside. When we walked as far as the nearest trees we found they were eucalyptus, with a smell to clear even the most recalcitrant sinus in the hot, still air.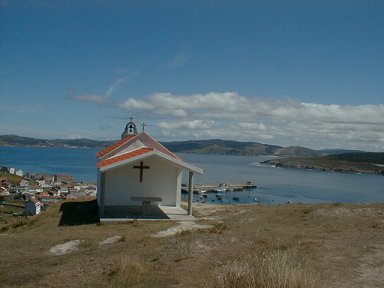 This chapel in the hills overlooks our boats in Laxe
La Ría de Camariñas
Camariñas had a yacht-club, announced the pilot book, and this seemed like it would be such a treat after the utter lack of yachtie facilities at Laxe. As we motored around the breakwater toward the pontoons in front of the yacht-club, a man with a bushy, white beard appeared on the walk-way and began enthusiastically gesturing as to where we should berth and waving the rope in his hand that we should secure with. I have met marina busy-bodies before - waving torches at me in the night at Brixham etc. This man had no uniform or boiler-suit and seemed far too keen. We were intending to anchor off, for free, as the pilot book suggested, but there were no other boats anchored and this man was very insistent. When we were close enough for it maybe to be understood I tried to communicate an anchor hooking down over our bow by waving my arm forward with down-crooked fingers. He threw down his ropes, spun his back to us in disgust and marched off up the pontoon.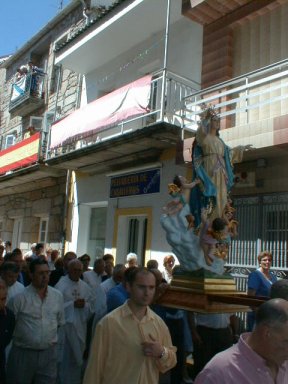 A statue of the Virgin Mary, carried shoulder-high through the streets of Laxe to the church on Sunday morning, to much dinging and tinkling of the bells.
As we dropped our anchor and settled back we watched the performance repeated with every incoming boat. Most of the others took his advice and he soon had the leeward pontoon healthily full. He must work here, we concluded. I was intrigued by the little gaffer that he climbed onto in between his exertions. I told Nicky about a German single-hander I had berthed next to in Brighton marina six years earlier on a single-handed trip of my own. He had a little gaff-rigged boat with an iron hull ('Nein! Ees IRON not steel!'). He told me that for the previous ten years he had spent the summers in Britain and over-wintered in Spain. He gave me a piece of 100-year-old mahogany to make some little brackets upon which I could mount my newly-acquired Walker log. This was from his original cockpit which he had re-built the previous winter in Spain. I was filled with admiration for his long-distance single-handing and we became quite friendly. I had asked him if the stuffed, toy monkey lashed into his rigging was a lookout, and he had roared with laughter - 'Ach! You are a TRUE single-hander! Others think it is a MONKEY! YOU can see it is my lookout! Very goot!'
When we later rowed ashore, as we went around this little black gaffer, sure enough, high in the rigging was a toy monkey. I went to re-introduce myself to him. He seemed quite agitated and not very interested in us. He did not remember our meeting at all. When I tried to jog his memory by reminding him that I had recognised the monkey as a lookout, he just repeated that it was not a monkey... but was a lookout. He told me he did not like Brighton and had only ever visited once but, unfortunately, another six years of old age, single-handed sailing and lonely living had not helped his eccentric wit. He was difficult to get through to and I was sad when he rushed off to wave mooring ropes at the next approaching yacht. We assumed that the local yacht-club was berthing him and probably feeding him here in exchange for his help on the pontoons.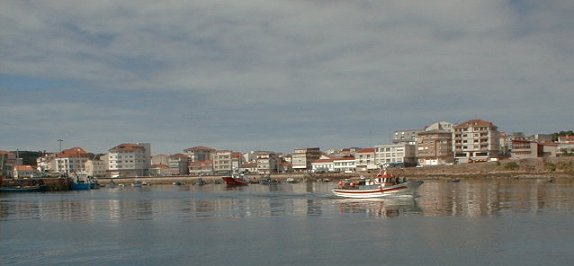 The fishing harbour of Camariñas is the main focal-point of town life. Each returning boat is eagerly awaited and, apart from lace-making in the parlours and porches, nothing much else happens.
Camariñas is famous for its lace. The main part of the town was thick with lace shops. Inside and outside every other house and shop there seemed to be little groups of lace-makers at work. Girls and women of every age from about ten up to eighty rattled away with their bobbins on a large curved dollies that sat on their laps.
There was a wonderful little inner harbour with men and boys working on fishing nets and net-covered pots which they used from smaller boats. The main harbour centred around a fish-quay with a sprawling, modern building near the slip where the incoming boats tied up to unload. This was a home-from-home for, at times, up to a couple of dozen men and women who waited for the next boat to come in in the evenings and through the night. The next boat was always heralded by the wail of an alarmingly loud siren which shattered the night half-a-dozen times daily.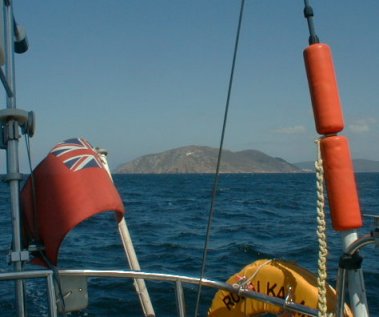 As Cape Finisterre draws astern, we move from the Rías Altas to the Rías Bajas and resume our travels toward the south.
This made for an interrupted sleep pattern, but it was not the worst thing. The worst thing was the smell. Somewhere in that building on the fish-quay something disgusting was being cooked, 24-hours a day, that was very oily and probably involved fish heads - if not their guts. The smell permeated the whole harbour, got into the boat, got in your hair and onto your clothes. We spent our birthdays there (they fall on consecutive days) and had a lovely meal at the Restaurante de la Marina (turbot cooked Galegan-style with a reddish oil on boiled potatoes - excellent fare) but in the end the smell beat us and we had to go.
Las Rías Bajas
Cabo Finisterre (pronounce all the letters in Spanish, including the final 'e') marks the transition from the Rías Altas to the Rías Bajas and also the transition from travelling west to progressing south as you cruise this coast. Like all headlands, this one can be fearsome in rough weather but we rounded it on a calm day and began to make progress towards the mid-day sun again on the 20th August.

Rusalka Mist lying to her anchor in the excellent natural harbour at Muros, seen from the town-centre waterfront.
La Ría de Muros
Our first stop in the Rías Bajas was at Muros. These lower Rías are much bigger and more convoluted in their coastline than their northern sisters. Muros is tucked behind so many headlands that no hint of the Atlantic swell penetrates.
As soon as we were anchored we started to notice that many of the boats around us were familiar.
"There's that one that was on a buoy in La Coruña,"
"Do you remember him in Laxe? He only stayed one night, then we saw him again in Camariñas."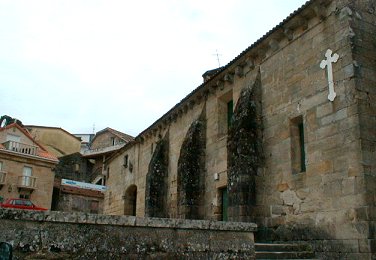 Lovely vernacular architecture at a church just outside Muros, across the road from the waterfront.
The pilot-book tells of huge complications to get the man who works in a white hut on one of the piers to unlock the man-hole to get out the hose to get you fresh water. We had refilled our water-tanks during a rainy night in La Coruña by letting the first hour wash our decks then plugging up the scupper-holes with plastercine and opening the deck-fitting so that nearly half the boat was a catchment area. We were full in four hours and the water had been clear and pure with a 'softer', cleaner taste than the chlorinated Jersey tap-water we were used to.
However, we were getting low again and it did not look like rain so something had to be done. We walked around the said white hut on the pier a few times but there was no sign of anybody who might work there or any likely-looking man-hole. When we saw a clapped-out-looking live-aboard hippie bus further back on the pier we reckoned they must get water from somewhere nearby. When we saw it had English license-plates we decided to ask them. Yes, they said, the tap was around there at the top of the beach, next to the best supermarket.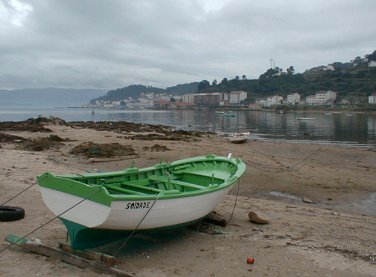 One of the local fishing boats beached across the head of the Ría from Muros, with the town and anchorage in the background.
They were stuck at present due to stripped splines on their drive-shaft, hoping either that a local fisherman would be able to weld it back together or that some breaker's yard or Bedford bus owners' association would be able to come up with the very thing from a crashed or scrapped bus. While we were chatting we noticed dolphins in the bay and followed as the young couple and their two small children rushed to the pier-head to watch these mystical creatures cavort among the anchored yachts. They were unusual, being quite a pale grey colour, but I felt a slightly strange relationship with the situation as such different views were brought to bear.
Early next morning we decided to make a couple of dinghy-trips to the beach to carry back 30 litres (6 gallons) of water each trip. On the way back with our first haul we were called from Faï Tira, a 45-foot steel sloop we had noticed first in La Coruña. She was wearing a British ensign at the stern, the usual Spanish courtesy flag to starboard and Scottish and Irish flags to port. Thus we met Bill and Ann. We went aboard for coffee and began to pass the time of day very pleasantly and easily. They have done all this before and are firmly convinced that it's the people you meet that make a trip. We made plans to see more of them later and ended up cooking them a meal the following night on Rusalka Mist.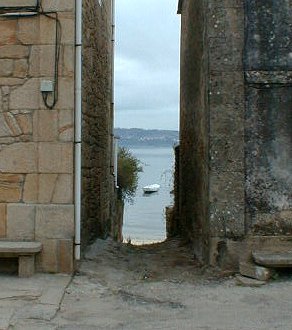 More local stonework - ancient and modern - just along the waterfront from Muros.
Muros is a lovely town with ancient streets and a gentle way of life. There's a huge selection of eating and drinking to be done along the waterfront and buildings which have not changed in centuries housing every kind of shop. From hardware and chandlery to needlework and crochet, you can buy pets and specialist magazines in every European language along the way, the back-streets of Muros have everything somewhere. Nicky seriously considered buying a dwarf rabbit to join us aboard. I warned her that rabbits live longer than our trip and that due to rabies laws at home he'd have to go over the side before we docked. She was going to call him Cloudy because he was grey. Maybe, being Spanish, he'd think we were calling him Claudio, and be quite happy. Luckily he was gone next time we passed the pet-shop. We hope some sensible Spanish child is looking after him seriously.
We took a walk around the head of our part of the Ría and found Beni's Restaurante - reputedly the best around - as well as more amazing old stonework. In many hollows, next to a stream, we found small stone buildings held a few feet off the ground by stone 'mushrooms'. These had slatted stone walls and often had a crucifix atop one gable end and something more abstract on the other. Nicky knew they were grain-stores and we have confirmed this to be true. They must be a local speciality as gift shops in the bigger towns here sell miniature replicas, faithfully reproduced in the local stone, all perfectly formed.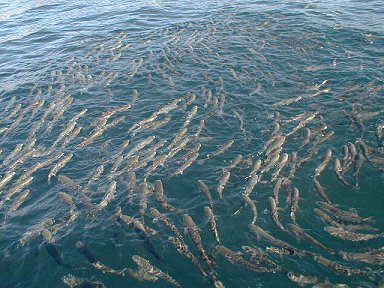 The Muros fish-'twitchers' would have done better in Laxe: This was the nightly scene there as the local fish came to play 'Stick-your-nose-up' around our boat in the evenings.
To begin with in the early morning we were surprised to see small, open boats around us in the anchorage each with its oars trailing in the water and each inhabited by one old man with a terrible, arm-twitching, nervous problem. It turned out that the twitching was caused by them trying to animate the bait on each of the four or six fine fishing lines they had hanging vertically down from the boat all around them. We never saw any of them catch anything. The hobby reached its climax at the weekend when the whole anchorage was thick with little boats, twitching away in total silence, while the beach around the edge was densely packed with what, presumably, were these men's wives equally assiduously not catching razor-fish.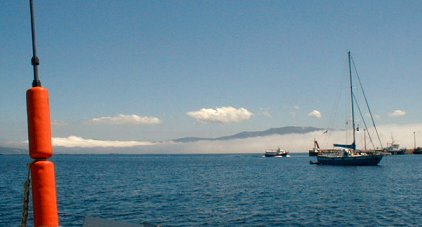 A couple of days before we left Muros we were treated to a preview of how the fog can slide up the Ría on what remains a lovely day in the town. We saw a lot more of this on the day we travelled.
La Ría de Vigo
Suddenly, in Muros, it struck us that we were going too slowly. Something about the weather and the way that other boats were moving on made me want to look at some suggested dates for passages in Jimmy Cornell's
World Cruising Routes. Sure enough, we really should be leaving mainland Europe - from Lisbon probably - before the end of September. If we carried on at our present, leisurely pace we would still be here in October. In order to speed things up we would have to miss out some of the Rías. The Ría de Arosa was next and the Ría Pontevedra came after that. They would both have to go from our itinerary. We checked our thinking with Bill and Ann on Faï Tira and they agreed - indeed had been thinking the same thing themselves. The last Spanish Ría is the Ría de Vigo. Vigo itself is a big town, nay city, with, unfortunately, no free anchorages for people like us. Back home we had never used the boat without paying marina or harbour dues, and now suddenly we would find it a huge imposition to be denied the right to lie to our own ground tackle, for free, in a quiet outer harbour. So, just to the south of Vigo lies the town of Bayona. This has the kind of harbour we like and so it became our next planned port of call.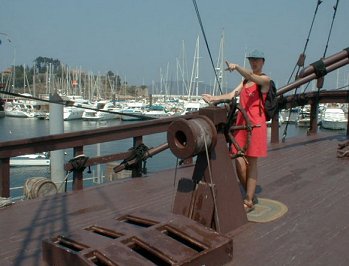 Nicky pointing out the way to the Caribbean at the helm of the Pinta in Bayona's crowded harbour.
Bayona
When Christopher Columbus had discovered the Caribbean and was returning to Spain in 1493 he stepped ashore with his momentous news in the harbour at Bayona. The harbour was then, and still is, dominated by the medieval fortifications around Monte Real on the northern headland. What is new for us is the high-sided, Sadolin-painted replica of his boat, the Pinta, moored to a pontoon with tourists streaming continuously to and from it all day. Also real to us and undreamed-of to him is the new dominance of the local yacht club. The Monte Real Club de Yates has struck fear deep into the heart of the less-than-very-wealthy travelling yachtie. The pilot book warns that if you do not berth at their expensive pontoons they will:
not allow you access to fresh water
not sell you diesel
not allow you access to their showers or laundrette
confiscate your dinghy or cast it adrift if you tie it to their pontoons.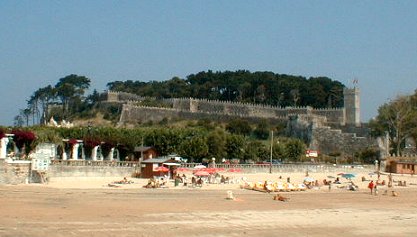 These ancient fortifications on the headland overlook Bayona's harbour. Just out of shot to the right is the rather-too-grand yacht club. (You don't need to see it - members and the rich and powerful only)
As we were dropping our anchor in the outer harbour an Englishman rowed over to us in his dinghy especially to tell us that we were, "Anchoring off the equivalent of the Royal Yacht Squadron," and reinforcing all of the above and more if we did not fully understand the significance of this.
As time has gone by, I have to say that, although we were intimidated by the guard-house on the street-side entrance to the club grounds and made no exploration, others have told us that they are reasonable in the club and open to all kinds of approach. Maybe it is just certain kinds of foreigner who get up their noses and give them this ferocious reputation.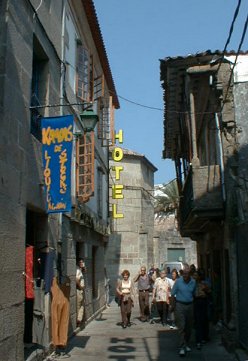 The stone-flagged and obviously ancient back-streets of Bayona. Much like those we so enjoyed in Muros too.
Our trip down from Muros to Bayona was not the easiest. The weather looked much like any other as we left, and the forecast was much like all the others here too. They always seem to forecast force 4 - 5 winds from various directions and there rarely is any wind at all apart from a sea breeze each afternoon for a few hours. The mornings are usually a bit misty and this was no exception. We left early at about 0800 as it was a longish trip of some 50 miles ahead of us. As we left the mouth of the Ría the wind was on our nose and it was getting foggy. We were heading south-west and had a couple more left-turns to make as we followed the coast south. We were happy to motor under main alone until we got a bit of an angle on the wind and could expect drive from the sails.
As the morning got on, the wind backed into the south as we turned to the south and the fog became very thick. We had the radar on and it was a very good thing we had it. Fishing boats were not appearing out of the mist until they were well inside the ¼-mile ring on the radar screen. With less than 500 m visibility, the wind was freshening and chopping up a lumpy sea. Some of the smaller coastal fishing boats had wooden hulls and no radar reflectors. They were not easy to spot among the wave-clutter in the forward quadrant of our radar display. I felt it was not at all dangerous, but did require constant concentration from the two of us, mostly Nicky watching the screen while I scanned the close, misty horizon. We had to dodge around a couple of fishing floats with loose, floating ropes.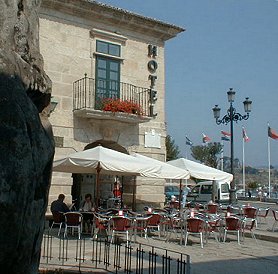 This is a nice Café in the main plaza just off the waterfront of Bayona. Very civilised café con leche and croissante to be had here after a gruelling dinghy ride to town...
Miles of coast and several mountainous islands slipped past us on both sides, unseen while we relied heavily on our satellite navigation (GPS) and excellent radar. As we approached Bayona itself we burst out of the fog and the wind died to a whisper. A few local pleasure boats were playing around in the blue, sunny bay. The hours of concentration, the choppy seas and condensation dripping from the rigging, the sails and my beard all seemed to be distant memories from a different, grey world.
The wind had headed us all the way and we used more than twice the amount of fuel than had got us right across Biscay - albeit that we were forced to make the best of our sails in Biscay due to the fishing net in our prop for the second half of the crossing. Maybe we should have headed out to sea and tacked our way south to Bayona, but with the fog I have to say that I felt we had enough on our minds just motoring straight to the waypoints.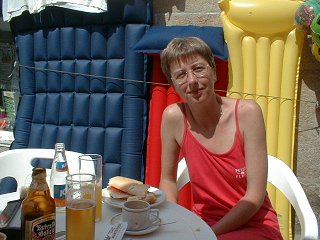 ...but here we are enjoying a substantial bocata - filled roll or baguette - on a slightly less well-appointed bit of plaza further up into Bayona.
In Bayona we were very aware of boats arriving that we had seen before. Bill and Ann are such good social mixers that it was not long before we were sitting on Faï Tira barbecuing sardines and pork chops with all kinds of interesting, fun people. Gote (pron: 'Jiota') from Polo Flat is an Australian with a terrific sense of humour and the most amazing Swedish-Australian accent. He's going our way, completing a single-handed circumnavigation that has taken through the Mediterranean and to Sweden already. His quiet, confident manner regarding sailing and the sea is a real education to us green-horns. Cameron is a keen, young, professional skipper who had flown out to Lisbon to take his own boat, Howling Gael, back to the UK and give Jo, his Glaswegian friend, her first taste of long-distance sailing at the same time.
Since Bill and Ann moved on towards A Guarda, further down the Spanish coast, a few days ago, we have begun to maintain the social tradition. Last night we finished off a bottle and a half of port on Rusalka Mist with Robert, another singlehander going our way aboard Seaola, even smaller than us at only 26 feet LOA.
Suddenly we realise that our lives afloat now include all kinds of new, cruising friends. I had read that this was likely to happen, but the transition from it being just us and the boat and the elements to becoming a social and a fun thing too, has been so easy and natural that we hardly noticed it happening. Now we have reunions to look forward to, more barbies, and probably a lot more fun to be had as well.