Rusalka Mist - Long Distance Sail-boat
The world seen from the deck of a 28 ft. cruiser.
Ten years on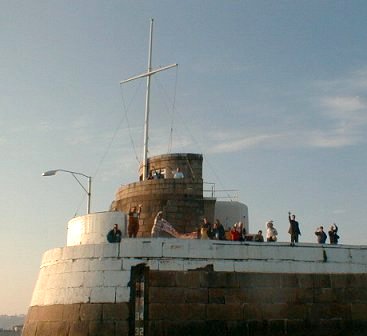 With 8,558 nautical miles behind her over 12 months, Rusalka Mist, our 28-ft cutter, came back into her home port of St Helier, Jersey in June 2000. We had left our home in Jersey, UK, in June 1999 and sailed her to the Caribbean and back via Spain, Portugal and the Canaries on the outward leg and with a stopover in the Azores on the return.
Ten years on from this trip, Rusalka Mist has remained in local waters, providing us with trips between the Channel Islands, to France and across the English Channel to England. Nigel now maintains a cruising blog where more up to date thoughts get posted
We crossed the Atlantic to Barbados during Christmas 1999 and the Millennium New Year. After some difficult weather in the North Atlantic on the way back after the Azores, we came through St Helier pierheads on the 29th June 2000. Family and friends had put on a wonderful, emotional and noisy welcome from a boat which came out to meet us, from the pierhead and finally on the pontoon.
The whole adventure has taken us through calms and gales, from new friends to beautiful reunions, across seas and oceans from an unbelievable blue to a cold, steely grey.
On this web-site you can read about how we fitted out the boat for such a cruise (see About Us: Rusalka and Preparations: The Boat). You can also find information about us and how we prepared ourselves to leave for this life afloat (see About Us: Nigel, About Us: Nicky and Preparations: Us).
The main part of the site however is the stories of our travels. These are detailed in the Cruise Logs section on the menu to the left. The most recent are at the top. Be sure to check out the story of our first, short ocean passage (Crossing Biscay - 1999) and our Atlantic crossing (Atlantic East-West). The most recent stories are in the Caribbean 2000 section (Barbados, Caribbean Cruising 1) and, most recently, Caribbean Cruising 2).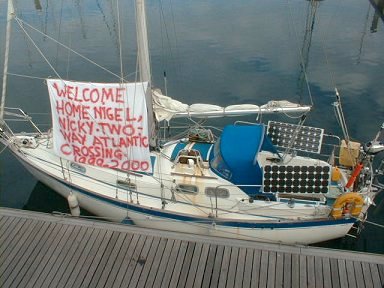 We also have the beginnings of a women's section where Nicky began to outline the female slant on the whole business.
This site has had a partial 'makeover' during 2003, but the content is largely unchanged since we returned from the Atlantic trip in 2000. Up to date thoughts and ideas on the cruising scene now go onto Nigel's cruising blog